Keller Williams operates on the idea that if the company focuses on building its agents' businesses, the agents in turn will build the company beyond all expectations.Today, more than 170,000 associates and over 790 market centers across the globe are affiliated with Keller Williams. And, here at Keller Williams Realty Gold, we are proud to be part of the family!
We are a training company that happens to be in the business of real estate and we work and live by our beliefs, what we call our WI4C2TS, mission, vision, values, and perspective.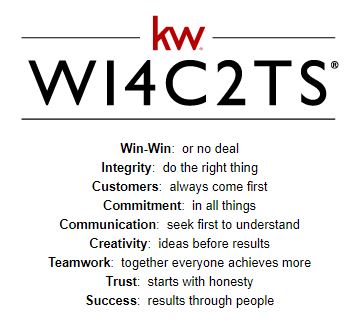 MISSION: To build careers worth having, businesses worth owning, lives worth living, experiences worth giving, and legacies worth leaving.
VISION: To be the real estate company of choice for agents and their customers.
VALUES: God, Family, then Business.
PERSPECTIVE: A technology company that provides the real estate platform that our agents' buyers and sellers prefer. Keller Williams thinks like a top producer, acts like a trainer-consultant, and focuses all its activities on service, productivity, and profitability.
Want to learn more about becoming a Keller Williams Realty Gold associate? Click HERE for more information!